savioz fabrizzi architectes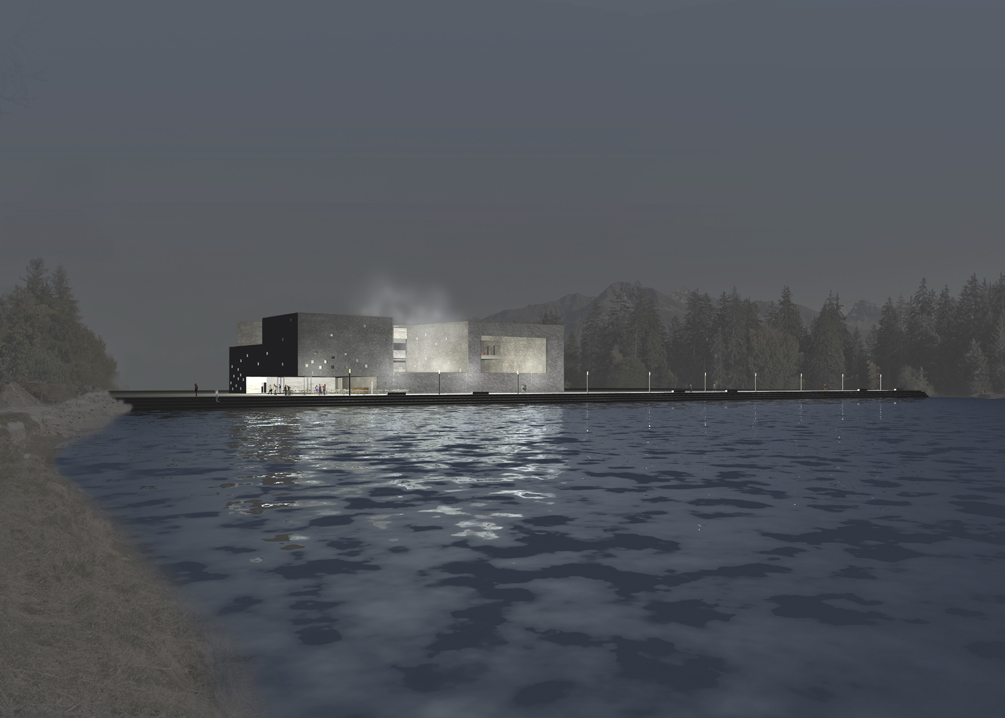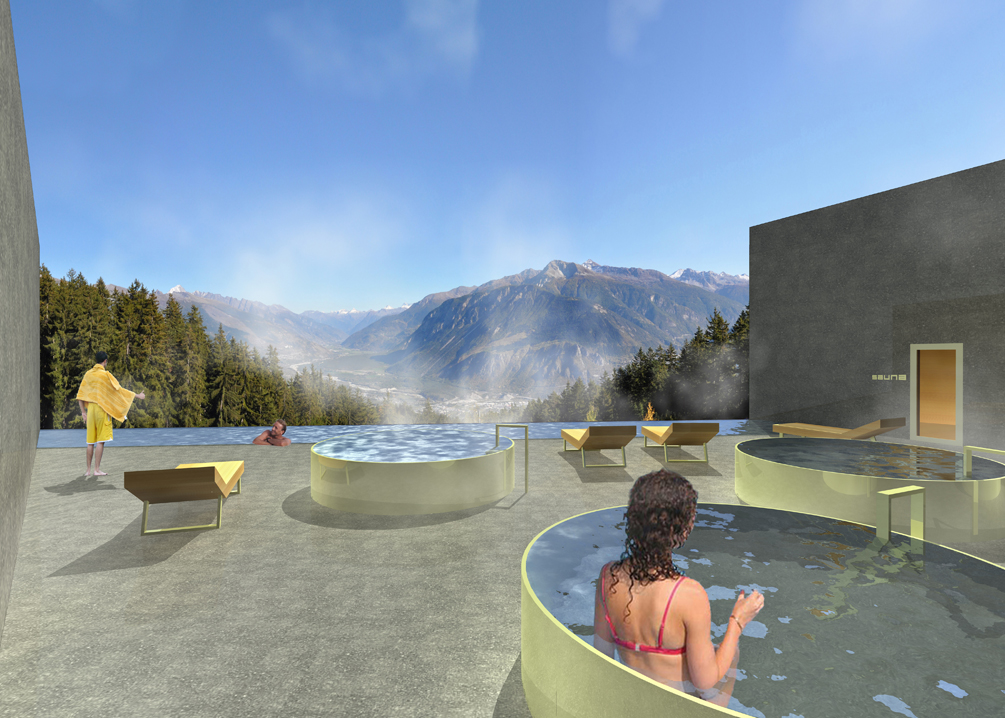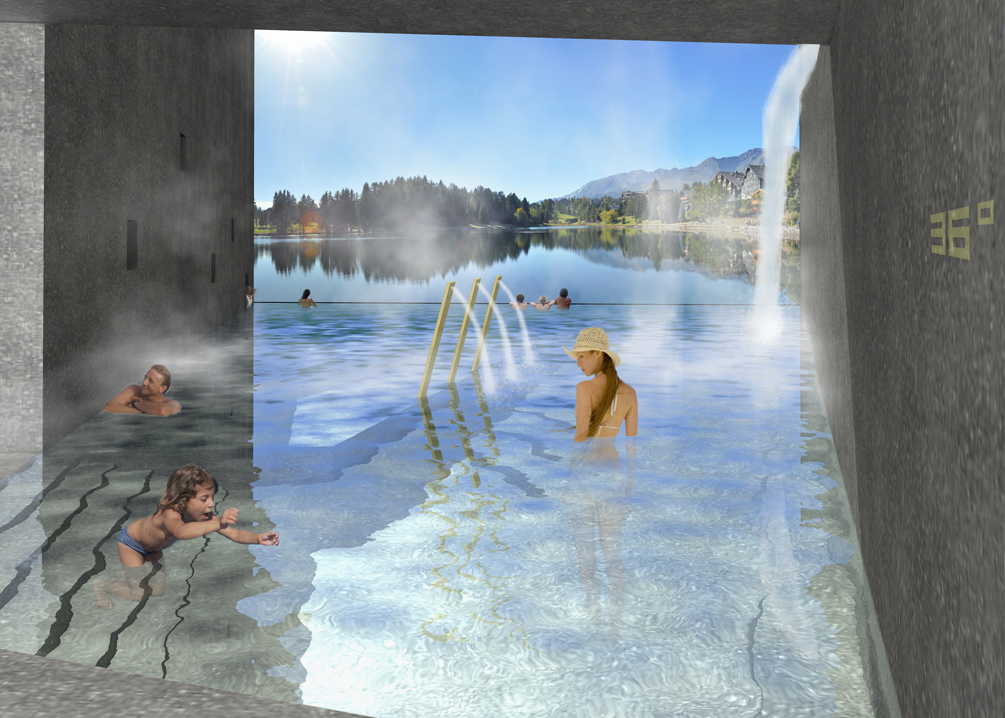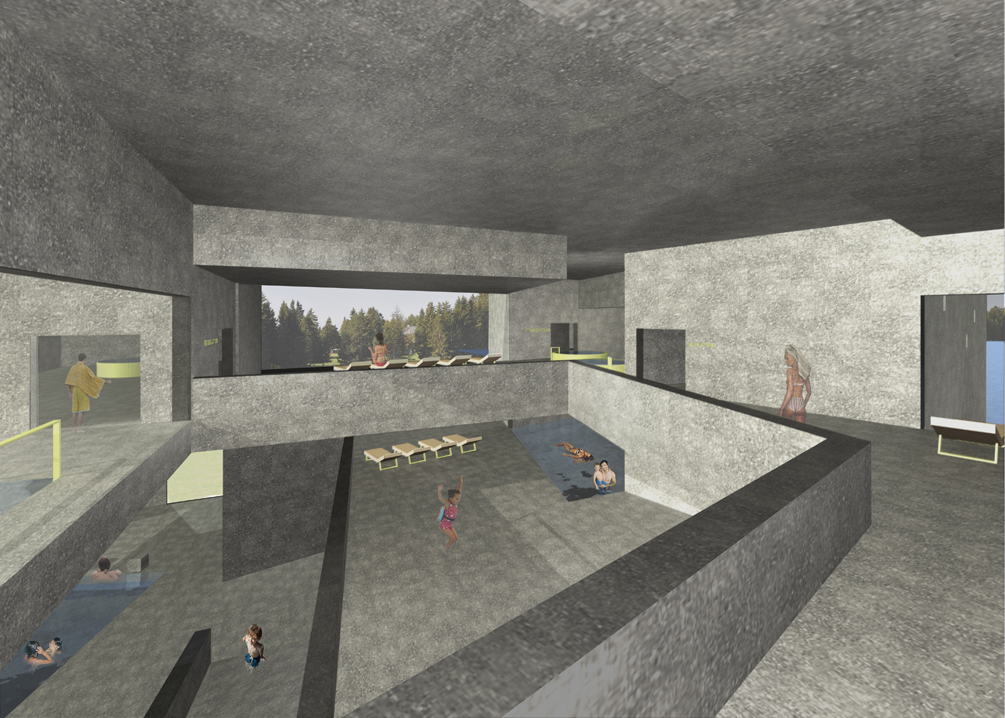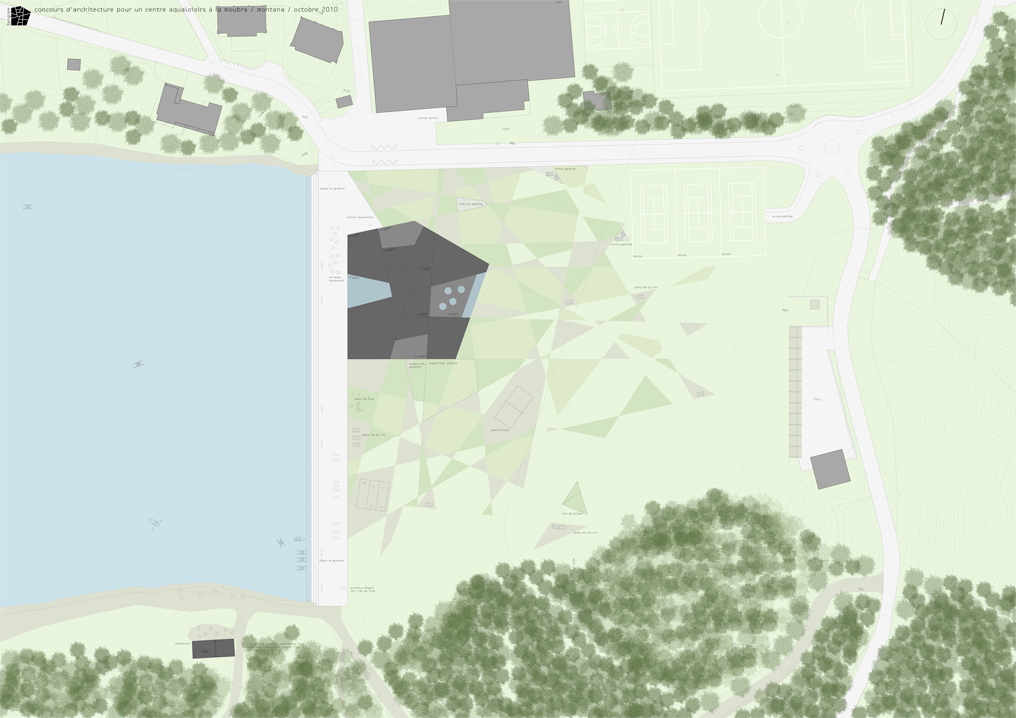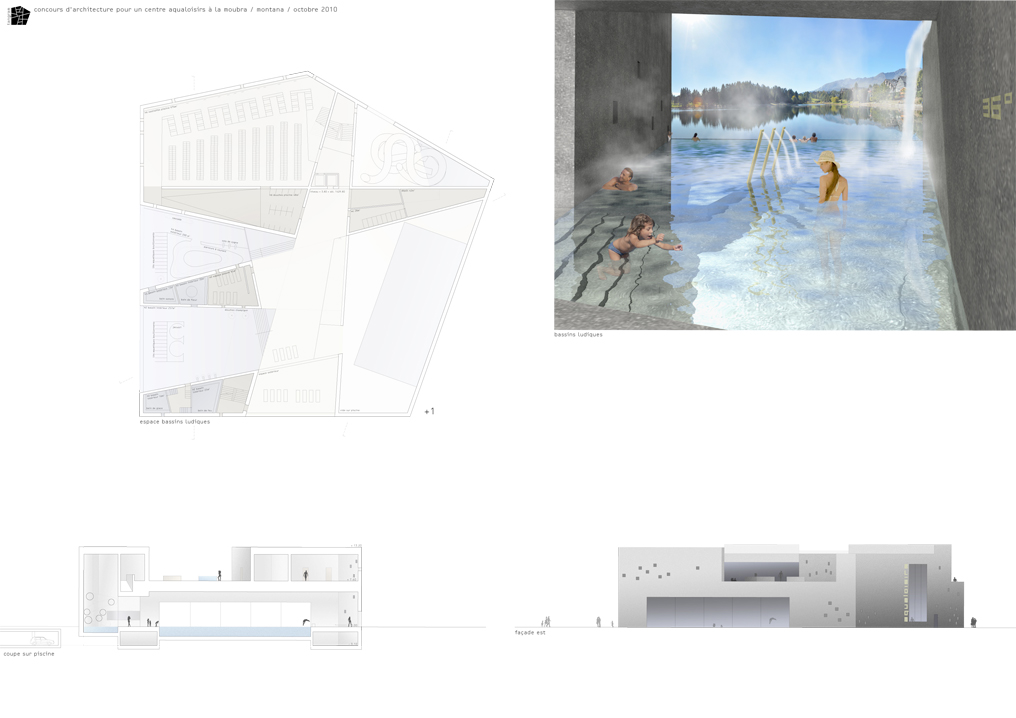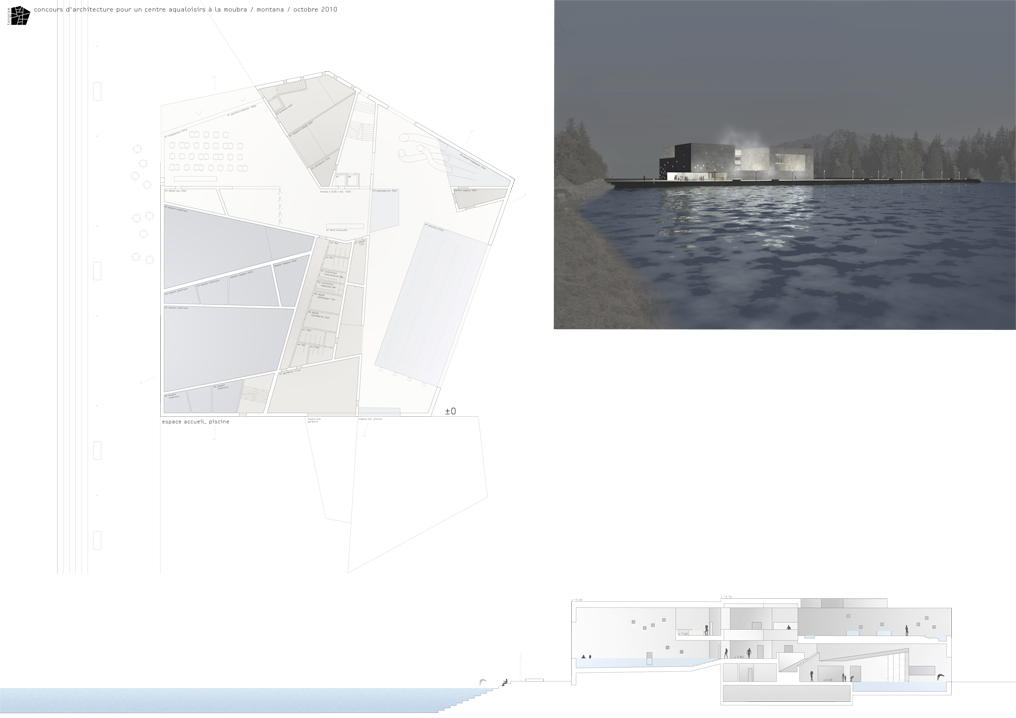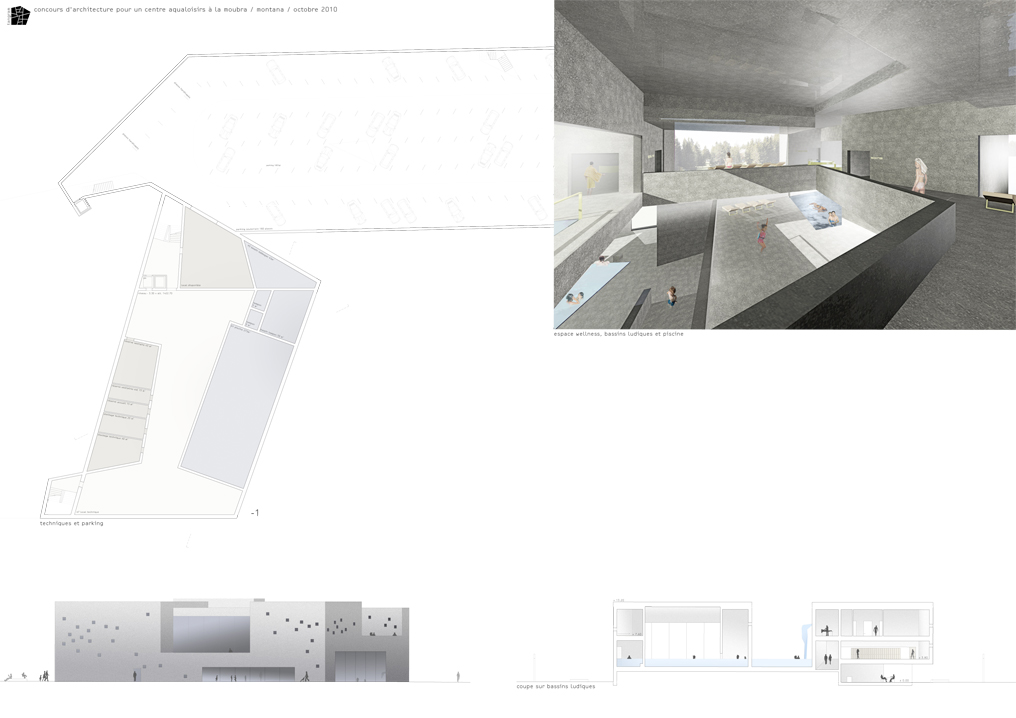 aqualoisirs, crans-montana, competition, 3rd place

client :

town association of crans-montana

program :

outside and inside pool, swimming pool, toboggans, fitness and wellness spaces, treatment area, cloakrooms, underground parking of 180 places

dates :

competition octobrer 2010

sia 116 volume :

32'135 m3

the new aqualoisirs centre is sited in relation to the embankment by the lac de la moubra. via its position, it aims to create a relationship with the components that structure the landscaped part of the site, offering openings towards the lake and the rhône plain. the compactness of the building allows sufficient space for an outdoor recreation/sports area. the underground car park is sited along the northern road and is accessed from the north-eastern roundabout. the entrance to the complex is on the stepped embankment, which is a structuring component of the site. this space links the activities associated with the lac de la moubra (beach in summer, cross-country skiing in winter) and those that take place in the multipurpose area (sport and games).


the building is constructed on three levels. the ground floor contains the reception areas and the indoor swimming pool with water slides. on the first floor, there are indoor and outdoor fun pools with views of the surrounding landscape, and the second floor is occupied by a wellness area offering treatments and a fitness room. movement around the building is via ramps, which create gentle routes that relate the different parts of the building to one another. the premises are arranged like a giant triangular jigsaw puzzle, offering a multitude of different types of internal spaces.

the building takes the form of an "extruded" block of mineral material (reinforced concrete). the different spaces, whose shape and volume vary, are integrated into this mineral world and create a continuity between interior and exterior. the internal walls structure the spaces and allow load-bearing walls to be made. these extend into the roof, creating spaces that vary in size. the building envelope consists of an insulated double concrete wall. the design meets the requirements of the swiss minergie standard for low-energy-consumption buildings, resulting in greater comfort and lower expenditure on energy.


the landscaped space is treated in continuity with the interior of the building. the different activities are each set within an area whose surface treatment reflects the variety of materials to be found at this leisure area, whether mineral (gravel, sand, coated) or organic (lawn, meadow, flower bed). walkable surfaces are carefully placed across the site to connect the different activity areas (beach volleyball, tennis, climbing wall, pétanque, walking, picnicking etc.).



aqualoisirs, crans-montana, competition, 3rd place