savioz fabrizzi architectes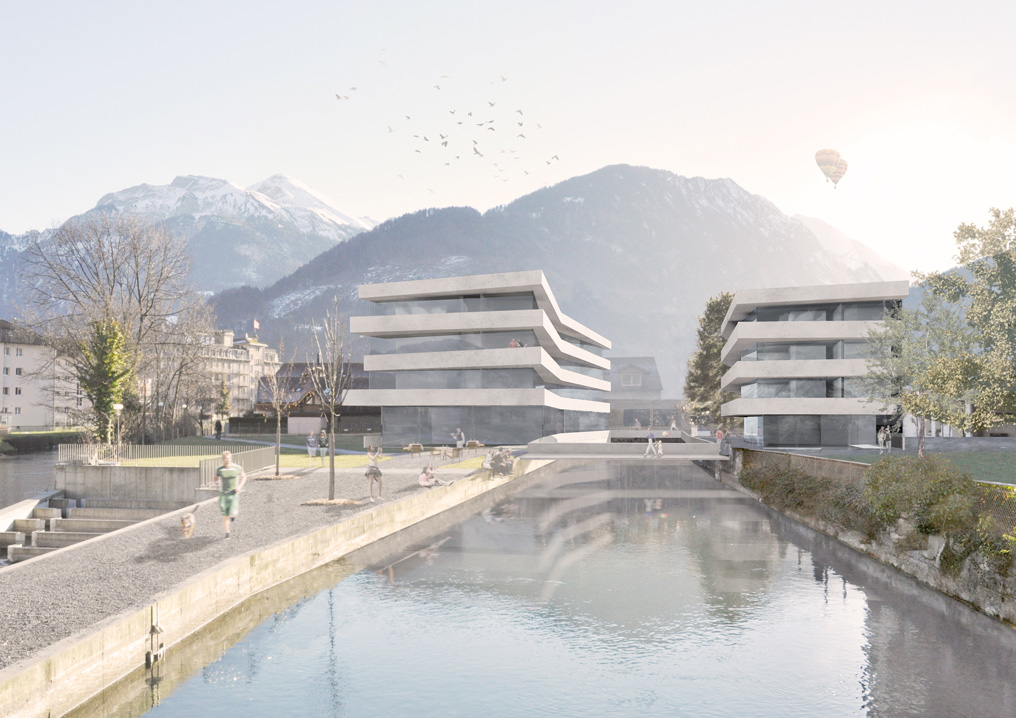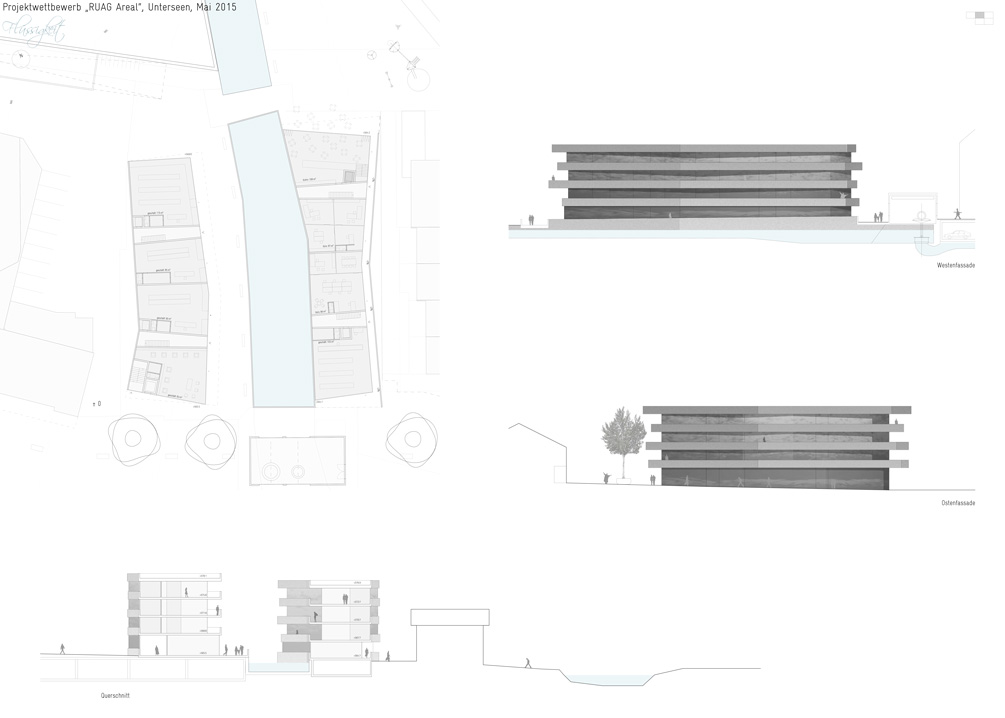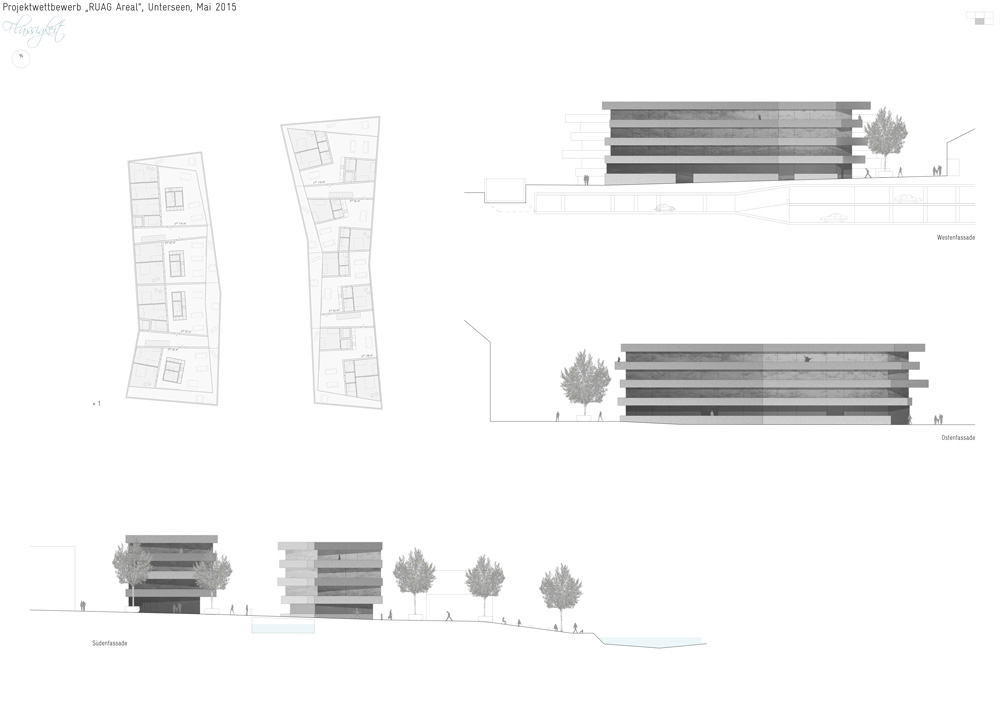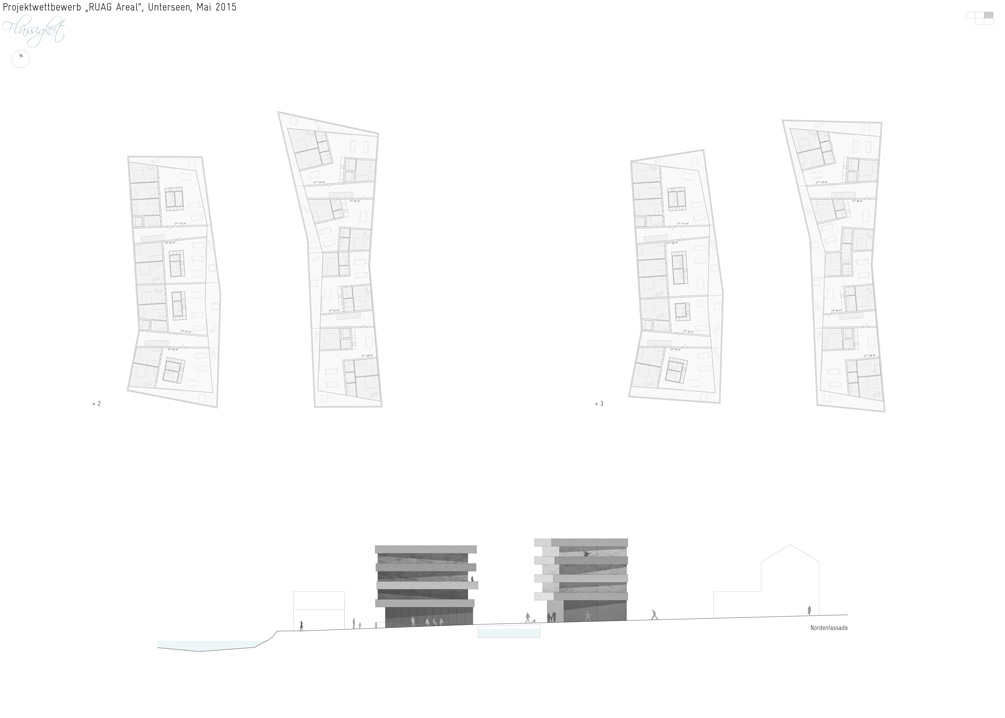 "RUAG Areal" project competition, unterseen


client :

ruag real estate ag

programme :

housing and commercial premises

dates :

competition may 2015

composition


two buildings are situated along the length of the canal, acknowledging the natural orientation of the elements that characterise the site.

the general arrangement of space in the buildings emphasises the axis provided by the direction of the water, with two blocks running along its length. the buildings adapt to their context, responding and changing shape to follow the line of the river or the empty spaces left in the existing built environment.

this linear nature of the buildings is reinforced by the treatment of the external walls. the fluid lines of the glazing and the galleries create an analogy with those of the canal.

the east building is sited directly adjacent to the canal and offers a direct relationship with the water from the inside. the west building is set back to form a quay that runs along the canal and continues the pedestrian route connecting bahnhofstrasse, hauptstrasse and the park to the north. the landscaping of hauptstrasse runs as far as kleine aare. the slope is managed via a large inclined section dotted with benches, extending the public space from hauptstrasse to the canal.

organisation

the ground floor of the west building continues the shopping arcades of hauptstrasse and provides retail spaces. in the other building, directly overlooking the canal, the ground floor contains offices, and there is a space housing a bistro which overlooks the park.

the apartments on the upper floors of the buildings seek to maintain this omnipresent relationship with the water. the communal areas of the dwellings in the west building are single-aspect, facing towards the canal and the south, and in the east building they are dual-aspect (through) spaces with views over fabrikkanal and to the south.

energy


the energy design of the buildings has two main objectives: to minimise the heating requirements and increase comfort in summer, without using an active system.

heating

several coherent measures ensure good levels of energy efficiency:

- a building envelope that is very efficient, thanks to very well-insulated walls and roofs, and low-energy-loss glazing.

- using passive solar gain via the shape and positioning of the buildings, finding the best compromise between exposure to sunlight and density.

- systematic heat recovery from all ventilation systems.

- producing 50% of the domestic hot water requirement via solar collectors placed on the roof.

cooling strategy

the project also meets the requirements for summer comfort by using the following features to prevent overheating:

- efficient solar protection of glazed openings via exterior fabric awnings.

- provision of natural ventilation in summer via the buildings' openings, during the day and/or at night.

- the high thermal inertia of the buildings, which ensures that they are also comfortable in summer.
"RUAG Areal" project competition, unterseen